"The agitator in my washing machine isn't agitating!"
Fixing our broken Kenmore Elite top loading washing machine (apparently similar to Whirlpool, Roper and Inglis) turns out to be a really simple 10 minute job.  Seriously, if your agitator is slipping don't call a repairman for this, a twelve year old could probably do it.  It's so easy that I would recommend that if you don't have a socket wrench and extension (the only tools required) that you buy one rather than call an appliance repair man just to change the agitator clutch.  Also, the parts were only $6.
So, my lovely wife informs me that the washing machine is broken.  It fills with water and makes noise like it's working but nothing much seems to be going on inside the tub – the water is maybe moving around a little bit, but not like normal where the clothes are all working around and down through the middle.  The agitator isn't agitating.  Actually upon a bit of investigation it turns out that the bottom half of the agitator actually is agitating, but the top part (the "clothes mover") seems to be slipping.
Just what we need, the economy is in the crapper and our 10 year old Kenmore washing machine picks now to give up the ghost.  I figure either we buy a new washing machine or pay a repairman to look at it and then maybe still buy a new clothes washer. Marvelous.
I've got to at least try to fix it first.
The problem is the agitator clutch – not to be confused with The Washing Machine Clutch – that is a completely different thing.
So after a few minutes spent with Google I determine that I need to remove the agitator by first "removing the fabric softener cup"  That's it – no detailed instructions.  Anyway, there's not much to loose so I dive right in…
The fabric softener cup comes off by pulling firmly from the bottom of the ridge a couple of inches down the side.  It's pretty stiff though.
Then, under the fabric softener cup you can see this large plastic plug which also just pulls out.  You might need to use a pair of pliers to grip the handle that is built into the top.
Once that is out you can see a regular hex bolt down in there.  You need a fairly long extension and a socket (7/16″ I think) to unscrew that.
Once you've loosened the nut you can pull the top part of the agitator (the "clothes mover") straight up to remove it.
The clutch and "dog" assembly is in the top of the agitator.
This assembly – spring, cup, and bolt are inside of the clutch dog carrier – pay attention to the order that they are in so that you can replace it all correctly later.  You might need to shake or jar some models to get this out (Whirlpool Ultimate care II for example) .
You can order agitator dogs at this link.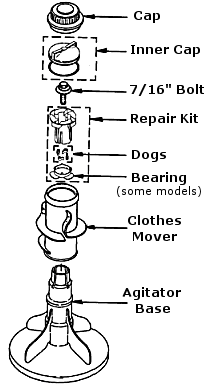 It's really that easy.  Obviously you just reverse  the process to  put it back together.  It took a lot longer to write this article than it does to fix the washing machine.
If this article is helpful  please leave a comment telling how you found it and what search engine and search term you used – I can use that information to help more people like you find it easily.  Thanks.
You can order appliance repair manuals here.  In a lot of cases you can fix your own appliances and save yourself a lot of money.